Eco-Schools Award: Strathburn School has achieved a fifth Green Flag award as an Eco-School. This involves the whole school as we have to collect materials for recycling, try and ensure that we are energy efficient and look after our school and the surrounding area. We have an Eco-School committee that meets regularly and actively encourage the whole school with new initiatives.
Rights Respecting Schools Award: We have attained Silver level accreditation as Rights Respecting School and are working towards the Gold level.
All children are developing an awareness of UNICEF's United Nations Convention on the Rights of the Child. Although these rights are always present, we also emphasise that with these rights comes responsibilities and pupils have a duty to contribute effectively to society.  At the start of each year classes create a class charter to help children understand that they have rights, how important it is to have rights and to develop their own sense of responsibilities. This scheme should enhance the values of our school and give another platform for developing the teaching and learning associated with Health and Wellbeing.
House Points: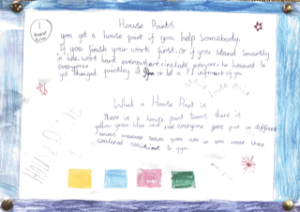 Friday Groups: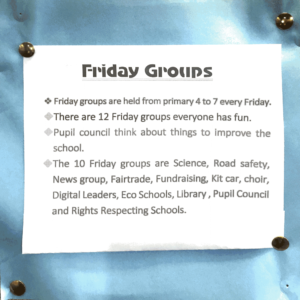 Additional Information :